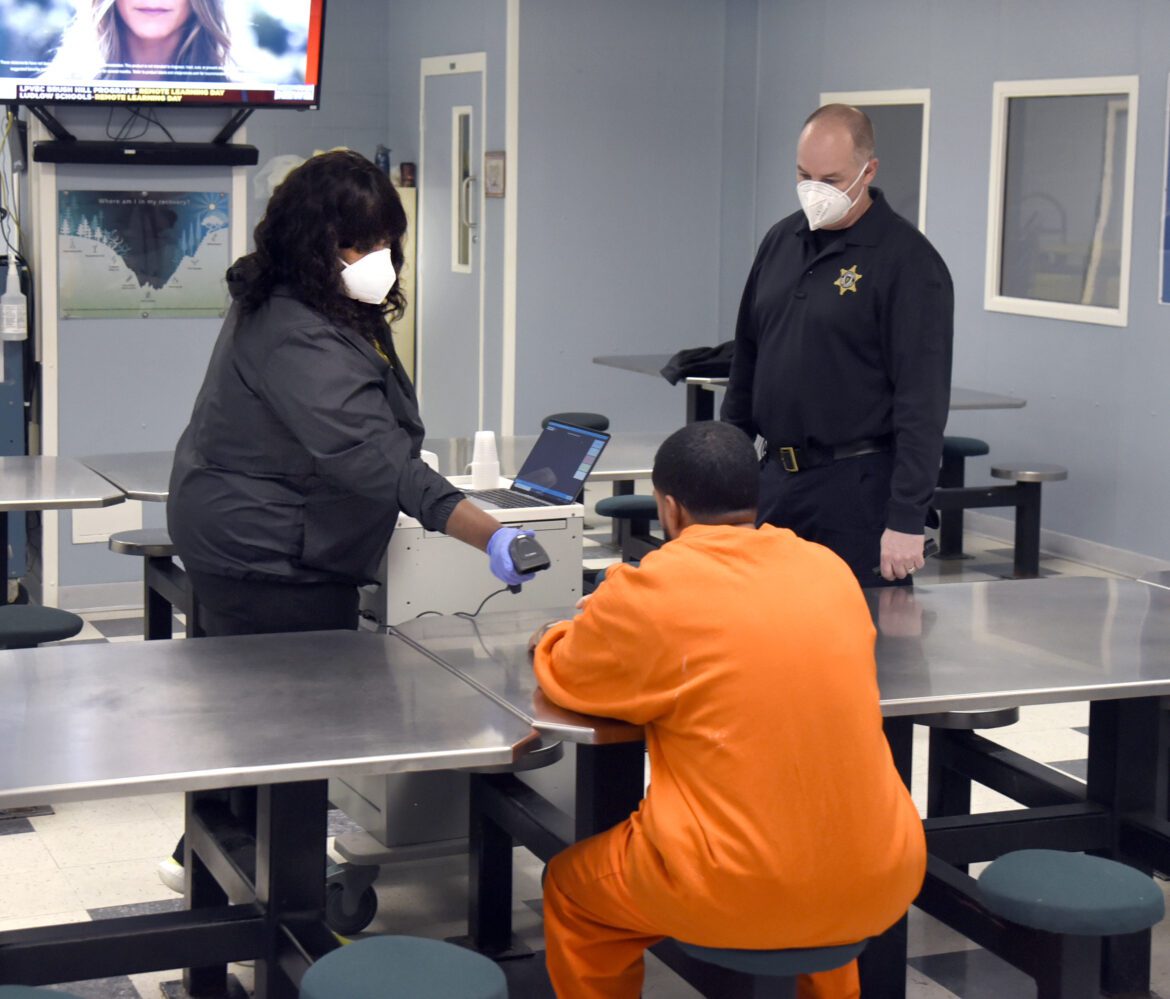 With more than 80% of incarcerated individuals report battling with some level of substance use disorder, the Medication Assisted Treatment (MAT) program further enhances the Hampden County Sheriff's Office's award-winning public health model of correctional health care.
As one of seven Sheriff's Offices across the Commonwealth choosing to participate in the MAT pilot program, we offer evidence-based, FDA approved medications including buprenorphine (Suboxone), methadone and naltrexone (Vivitrol) for treatment of opioid use and alcohol use disorder. Education, including overdose prevention, is included for each MAT participant. HCSD has partnered with CODAC, a licensed opioid treatment provider to provide MAT, weekly psycho-educational classes and monthly clinical meetings. The Behavioral Health Network maintains the discharge planning for the client in conjunction with HCSO medical staff, and HCSO program staff. Community placements are based on home location, client comfort and any previous relationship with their neighborhood community service providers.
Since the MAT program's inception on Sept. 1, 2019, it has provided a critical bridge to treatment for more than 2,000 men and women who came into the custody of the sheriff's office.
"The MAT program helps people coming into our custody maintain these critical prescriptions without a fear of having to unnecessarily go through withdrawal," Hampden County Sheriff Nick Cocchi said. "At the same time, it helps current inmates and substance use disorder clients maintain abstinence from illicit drugs and ensures they return to the community with the best chances of avoiding an overdose and transitioning into long-term recovery. Offering this program and these medications is the humane and right thing to do if we truly want to help people battling addiction-related issues."
People coming into the HCSD's custody with an active MAT prescription are allowed to continue their treatment regimen with a typical approval coming the same day as intake, according to medical staff with the program. Anyone in custody who reports a form of substance use disorder where the three FDA-approved medications are deemed helpful is assessed for eligibility and started on MAT when appropriate.
In addition to medication, individual and group therapy is provided by CODAC and HCSD staff. For many clients, it is the first time they've experienced therapy for substance use disorder and serves as a gateway to recovery that carries over to life after release. Additionally, sentenced inmates not presently on medication, but with a previous history of substance use disorder, may be eligible to start MAT prior to release. This can help them transition into long-term recovery and at a minimum, decrease the chances of a fatal overdose upon release.
When someone is released from custody, the Hampden County Sheriff's Office connects them with a health care provider in their community as part of its nationally recognized Public Health Model. As an extension of that, anyone on MAT is directly connected with an authorized and licensed MAT clinic wherever they live.
During the pandemic, as the availability of community-based treatment options fluctuated, MAT was a critical lifeline for people leaving the department's custody. The program was recently audited by the National Commission for Correctional Healthcare and has been fully accredited with exemplary remarks.