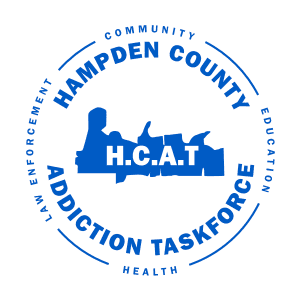 The Hampden County Addiction Taskforce (HCAT) is a collaboration of community resources, law enforcement (local and state), health care institutions, service providers, schools and community coalitions individuals, and families whose goal is to focus on a county-wide approach to address drug addiction, overdose, and prevention. The Hampden County Addiction Taskforce was founded by the Hampden District Attorney's Office and the Hampden County Sheriff's Department.
The Hampden County Addiction Taskforce (HCAT) current objectives are as follows:
To develop real-time overdose surveillance and analytic (ROSA) system that can provide weekly reports and/or formatted data to approved stakeholders in a secure platform.
To study and assess the necessary treatment capacity needed county-wide
To develop standardized messaging for addiction and addiction-related issues
To provide a forum for law enforcement, health care institutions, service providers, schools, and community coalitions to share best practices in prevention and education
In 2020, The Hampden County Sheriff's Department received funding from the Department of Justice; the Comprehensive Opioid, Stimulant, and Substance Abuse Site-based Program (COSSAP) Grant. With this funding, the Rapid Response and Connection Team was developed. The Rapid Response and Connection Team consists of a Program Coordinator, Sheriff's Deputies, and a Recovery Coach. The Rapid Response and Connection Team provides community outreach to individuals in Hampden County within 24-72 hours post an overdose occurrence and to those who are at-risk. The Rapid Response and Connection Team utilize the Critical Incident Management System (CIMS) to track real-time overdose data throughout Hampden County.
During community outreach, The Rapid Response and Connection Team connect individuals to immediate services, case-management follow-up, and meets individuals where they are currently at. The Rapid Response and Connection Team provide support and treatment resources as well as harm reduction tools such as Narcan. Team members provide resource packets to individuals and family/friends. These resource packets contain information on MOUD, Detox/CSS/TSS, Recovery Centers, Great Samaritan Law, and more.
The Rapid Response and Connection Team provides support to individuals who may be struggling with substance use and/or at-risk of an overdose. Individuals who are at-risk can be referred to the Rapid Response and Connection Team by self-referral, family member, friend, community partner, etc. The Rapid Response and Connection Team can support these individuals in exploring treatment options and other support services. At-Risk Referrals is a proactive approach that gives the Rapid Response and Connection Team the ability to provide support to individuals and families before a potential overdose.
MA Substance Use Helpline
All Inclusive Support Services (AISS)
AISS assists people in all aspects of their lives, including the justice-involved population as they transition from incarceration back into the community. Many of them face a range of issues, such as addiction, mental health problems, lack of identifying documents, employment obstacles, financial concerns, limited education, poor housing situations (or lack of housing), etc.
AISS Program: Services at a Glance
SafeLink Wireless
Clinical Support / Behavioral Health Network
Healthcare
Parenting Group—Men / Children's Study Home
SNAP / Food Bank of Western Mass
Anger & Beyond: Specific groups for women (Mon.) & men (Wed.)
Case Management: Intensive support assists clients to anticipate challenges and navigate their unique re-entry pathway, as supported by reentry staff and guided by individual Service Plans. Assistance with ID's, housing, clothing, family matters, relapse prevention, lifestyle change, navigating DCF, and other activities.
CHESS: Community Housing that is Earned, Safe, and Supportive
This highly structured long-term program offers a real pathway to residential stability through clearly identified benchmarks, support, and individual accountability.
 Education: Full range of classes, well-equipped "smart classroom," educators specializing in teaching justice-involved students: ABE, ESOL, HiSET, Pre-HiSET, Academic Advising, Computer Skills, and support for transition into college.
Employment Support
Grief & Loss Group
Men Stepping Up for Change
Mentorship
Resource & Support Group
Women's Support Group
AdCare 
We offer a wide array of treatment options at AdCare. We offer a wide range of addiction treatment programs to accommodate each patient's unique situation. Our inpatient, outpatient, and family services are run by a compassionate team of addiction treatment professionals who are ready to guide you on the road to recovery.
https://adcare.com/
866-472-2598
Alcoholics Anonymous (AA) in Western Massachusetts
https://westernmassaa.org/
(413) 532-2111
Behavioral Health Network (BHN)
BHN's mission is to help individuals, families and communities improve the quality of life for those with behavioral and developmental challenges.
All BHN programs offer support; guidance and tools that help individuals make positive, life-altering changes. Whether a person has intellectual or physical disabilities, struggles with drug or alcohol addiction, or is challenged by mental illness, BHN helps people develop more fulfilling lives.
Better Life Partners
"We help any underserved individual achieve a healthier life filled with belonging, love, and purpose. Our medical and behavioral health team will support you in your community and with virtual care."
Substance use treatment:
Medication (for example, Suboxone), therapy, and coaching for successful recovery
Medical & behavioral health care:
Physicians, coaches, and therapists working together on your side
https://betterlifepartners.com/
866-679-0831
BHN Carlson Recovery Center
https://www.bhninc.org/locations/471-chestnut-street
413-733-1431
CleanSlate
We provide medication-assisted treatment and an individualized treatment plan for each patient suffering from opioid addiction. Our physicians and care coordinators work closely with other medical and behavioral health providers and social services organizations to support every aspect of our patients' recovery.
https://www.cleanslatecenters.com/
413-736-1458
Hope for Holyoke Recovery Support Center
Hope for Holyoke Recovery Center welcomes all people in recovery from substance use and those affected by substance use. Services are free and provide peer-to-peer supports including peer facilitated support; relapse prevention and tobacco cessation support groups; social events; access to computers for job readiness/job search activities; and advocacy and recovery coaching.
Volunteer opportunities are available for members who are committed to their recovery and actively participate in the center. Becoming a member is free!
https://www.gandaracenter.org/hope-for-holyoke
413-561-1020
Massachusetts Substance Use Helpline
Seeking treatment and support is the first step toward recovery. Being in recovery means a life of greater freedom and possibility. Let us help you take a step toward recovery. Hope is here.
The Helpline is the only statewide, public resource for finding substance use treatment, recovery, and problem gambling services. Helpline services are free and confidential. Our caring, trained specialists will help you understand the treatment system and your options.
https://helplinema.org
800-327-5050
Massachusetts Behavioral Health Access
Up-to-date bed availability for detox and residential treatment programs
(617) 790-4000
http://mabhaccess.com
MA Organization for Addiction Recovery (MOAR)
(617) 423-6627
http://moar-recovery.org
MiraVista Behavioral Health Center
"MiraVista is a new behavioral health care organization formed to create additional inpatient and outpatient behavioral health services in Western Massachusetts. We opened our doors Spring 2021 and are providing adult and adolescent inpatient psychiatric services and acute care and outpatient services for addiction treatment."
https://www.miravistabhc.care/
413-264-0819
Narcotics Anonymous (NA) Meetings
https://nerna.org/
(866) 624-3578
National Alliance on Mental Illness (NAMI)
(413) 786-9139
https://www.namiwm.org/
National Suicide Prevention Lifeline
(800) 273-8255
Never Use Alone
If you are going to use by yourself, call us! You will be asked for your first name, location, and the number you are calling from. An operator will stay on the line with you while you use. If you stop responding after using, the operator will notify emergency services of an "unresponsive person" at your location.
Our mission is to provide a lifesaving point of contact for people who use drugs, to help increase their odds of surviving an overdose/fentanyl poisoning. We will never shame, judge, or preach about stopping. If you are interested in getting help, we have resources available for you, but we will never push them on you.
https://neverusealone.com/
800-484-3731
Samaritans Statewide Helpline
(877) 870-4673
SaVida Health
Opioid & Alcohol Addiction Treatment
"At SaVida Health, we treat addiction as a chronic disease, not a personal weakness. We work to heal the whole person by providing comprehensive medication management, behavioral healthcare, counseling, and patient support."
https://savidahealth.com/
413-732-0040
Substance Abuse and Mental Health Services Administration (SAMHSA)
(800) 662-4357
https://www.samhsa.gov/
Tapestry
Harm Reduction:
We provide access to healthcare without stigma for people who use drugs. Our harm reduction and outreach services are free, confidential, and available on a walk-in basis. We offer: overdose prevention education, safer use counseling and supplies. Narcan training and access, STD, HIV and Hep C testing and more.
We Provide:
Narcan (naloxone) access and training
Community education on recognizing, preventing, and reversing an overdose
Referrals to drug treatment programs and medical care
https://www.tapestryhealth.org/
413-363-9472; Springfield MA
413-315-3732; Holyoke, MA
Valor Recovery Center
Valor Recovery Center is a safe place where people from different backgrounds, life experiences and gender identities come together. Volunteers and staff work to build a judgment-free community that is peer-driven, recovery-centered and embraces all pathways of recovery.​
https://www.gandaracenter.org/valor-springfield-recovery-center
413-507-3635
Advocacy to Support Families
Allies in Recovery
Allies in Recovery can show you a better way. We are an online learning platform for families whose loved one struggles with drugs or alcohol. We provide community, personalized guidance, and a scientifically-proven program to give you the skill set you'll need to help your loved one. Free for MA residents.
https://alliesinrecovery.net/
413-272-8170
Al-anon/Alateen
Al‑Anon is a mutual support program for people whose lives have been affected by someone else's drinking. By sharing common experiences and applying the Al-Anon principles, families and friends of alcoholics can bring positive changes to their individual situations, whether or not the alcoholic admits the existence of a drinking problem or seeks help.
Alateen, a part of the Al-Anon Family Groups, is a fellowship of young people (mostly teenagers) whose lives have been affected by someone else's drinking whether they are in your life drinking or not. By attending Alateen, teenagers meet other teenagers with similar situations. Alateen is not a religious program and there are no fees or dues to belong to it.
https://al-anon.org/
413-782-3406
Family Support Group
Family members struggling with a loved one battling addiction, not a grief group
Our Lady of Fatima Parish
438 Winsor St
Ludlow, MA 01056
Contact: Maureen at 413-563-6226
Group days/time: 2nd and 4th Tuesday of each month at 6pm
Learn2Cope
Learn to Cope is a peer-led support network that offers education, resources, and hope for family members and friends who have loved ones affected by substance use disorder.
Founded by Joanne Peterson in 2004, the organization has grown to include over 11,000 members and has become a nationally recognized model for peer support and prevention programming. If you're not sure where to begin, we're here for you and encourage you to get in touch.
https://learn2cope.org/
508-738-5148
Nar-Anon
(800) 477-6291
https://nar-anon.org
Smart Recovery Family and Friends
"Are you looking for resources to help you support someone struggling with addiction? Is someone else's addiction negatively affecting you? Perhaps you're seeking an alternative to tough love? We provide effective, easy-to-learn tools to help both you and your loved one. Our methods are based on the tools of SMART Recovery and CRAFT Therapy (Community Reinforcement & Family Training). Our meetings — available both in-person and online — provide concerned significant others the tools they need to effectively support their loved one, without supporting the addictive behavior. These tools also help Family & Friends better cope with their loved one's situation and regain their peace of mind."
(440) 951-5357;
https://smartrecovery.org/family
Support After Death by Overdose (SADOD)
SADOD provides resources, information, and assistance to people throughout Massachusetts who have been affected by the death of someone they care about from a substance-use-related cause. Our focus is on increasing the capacity and effectiveness of peer grief support for bereaved people, frontline care providers, and people in recovery or struggling with drug use.