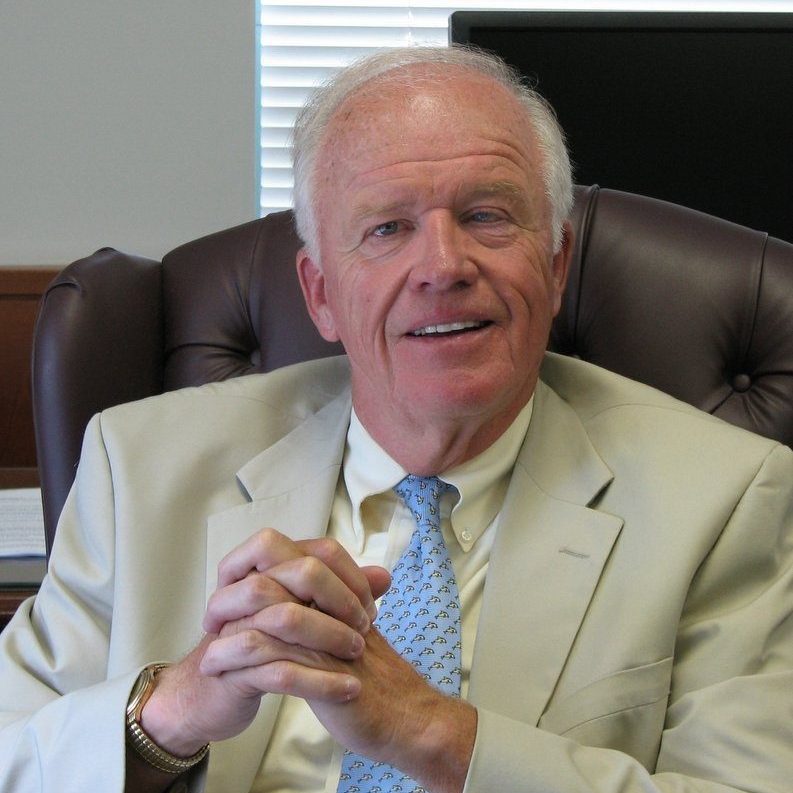 Retired Sheriff Michael J. Ashe, Jr.
Retired Sheriff Michael J. Ashe, Jr. is a native of Springfield, Massachusetts.
He holds a bachelor's degree from St. Anselm's College and a Master's degree in Social Work from Boston College.
He worked for the Division of Child Guardianship, including serving as a supervisor in a program for battered children in Western Massachusetts, and then he and his wife Barbara served as the first houseparents of Downey Side homes for youth. Michael Ashe also served as Downey Side's first Assistant Director.  Downey Side was founded to provide long-term care to children in need of stability in their home situations.
Michael Ashe was elected Sheriff of Hampden County, Massachusetts in 1974. He has been re-elected every six years since without opposition.  He retired in 2016.
Former Sheriff Michael Ashe's motto of correctional supervision was "Strength reinforced with decency; firmness dignified with fairness."
Sheriff Ashe strongly believed that the offender who desires to build a law-abiding life should be challenged with the opportunity to pick up the tools and directions to do so, and that this should take place in a safe, secure, orderly, demanding, lawful and humane environment, where staff and inmates are free from violence.
Among the operations that Sheriff Ashe was most proud of are:
The nation's first Day Reporting Center, started in 1986, which closely supervises and supports the community re-entry efforts of inmates living at home at the end of their sentence, and which has been replicated throughout the country
The nation's first correctional After Incarceration Support Systems (AISS) program, in which, despite having no statutorial or traditional obligation to do so, the department assists inmates during the crucial first months when they are no longer in custody
The Western Massachusetts Correctional Addictions Center, founded in 1985, which was one of the nation's first correctional facilities dedicated to substance abuse treatment
A medical department which developed the Public Health Model, a new paradigm for correctional medicine in its linkage to community-based public health centers, which was selected correctional medical program of the year by the national commission on correctional health care and won an Innovations In American government award from the Ford Foundation and the Kennedy School of Government
An inmate education program that has graduated over 4600 GED/HiSET (high school equivalency) diploma recipients under Sheriff Ashe
A Community Service Program for minimum security inmates that has contributed over one million hours of community service to Hampden County communities under Sheriff Ashe
A prison industry program, "York Street Industries"
A reformed programmatic and operational design for a disciplinary segregation/special management unit that seeks to offer "the most difficult of the difficult" a positive road to correcting behavior
The "Armory Street Grille", an eatery in a local technology park, staffed by offenders re-entering the community under supervision of sheriff's department staff, which is guided by a philosophy of public sector entrepreneurship and the proceeds from which are poured back into the department's vocational training program
Former Sheriff Michael Ashe adopted a "40 hour work week" policy for sentenced inmates, in which inmates are expected to put in 40 hours per week of work or other productive activities involving employment training and preparedness, substance abuse treatment, educational attainment, victim impact sessions, etc., etc… Sheriff Ashe believed that the incarcerated should "answer the bell" for a positive day each morning, just like they will have to do to lead a productive law-abiding life when they are released.
Facilities under Sheriff Ashe's administration received 27 consecutive audits of 95% or higher by the American Correctional Association with an average score of 98.39. In 1996, the Hampden County Sheriff's Department became the first County Correctional Department in the nation to be awarded four separate accreditations from the American Correctional Association for four different levels of security.
Former Sheriff Michael Ashe was a believer in "community corrections."  He believed that a County Correctional Facility should be part of the community, rather than an isolated "fortress in the woods." Toward that end, he has established 300 community partnerships with non-profit and public agencies throughout the county to assist in the correction and community re-entry effort.
The Hampden County Sheriff's Department community corrections program is the subject of an entire chapter of the book "Sensible Justice" by Daniel C. Anderson.
In February of 1990, Sheriff Ashe commandeered a National Guard Armory as a temporary correctional facility because of the lack of space for those remanded to his custody, which the Boston herald called a "smart, gutsy move."
Sheriff Ashe was a past president of the Massachusetts Sheriffs Association. He received, among other awards:
The White House "Champions of Change" Award
The Howard B. Gill Lifetime Achievement Award for "outstanding commitment to the field of criminal justice and his sense of justice, firmness balanced with kindness, and the courage to take chances."
The Beverly Ross Fliegel Public Service Memorial Award for "bringing a clear vision of social justice to the criminal justice system."
The annual President's Award of the Massachusetts Sheriffs Association "In recognition of courageous actions on behalf of the citizens of Hampden County."
The William Pynchon Award for contribution to the Western Massachusetts community
And honorary Doctorates from American International College, Elms College, Western New England University and Westfield State University
Mike and Barbara Ashe are the parents of six and the grandparents of eighteen.